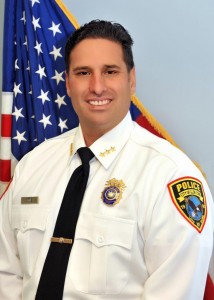 Glen Cove, NY, September 18, 2017…The National Institute of Justice's (NIJ) Law Enforcement Advancing Data and Science (LEADS) has selected Glen Cove Deputy Police Chief Chris Ortiz as one of nine scholars for its 2017 program. The LEADS programs are designed to increase the research capabilities of law enforcement officers and agencies by enhancing the focus on empowering law enforcement to integrate research into policies and practices.
Established in 2014 through a partnership between NIJ and the International Association of Chiefs of Police (IACP), NIJ's LEADS Scholars Program develops the research capacity of mid-career law enforcement personnel who are committed to advancing and integrating science into law enforcement policies and practice. The program aims to identify and nurture the next generation of law enforcement leadership through encouraging the use of evidence-based research to advance criminal justice best practices and principles. "It is an honor to be accepted as a LEADS scholar and I look forward to weighing in on police policy and sharing best practices through NIJ meetings in Washington and my participation in the International Chiefs of Police meeting in Philadelphia this October," said Deputy Chief Ortiz.   "I appreciate the support of Mayor Spinello and GCPD Police Chief William Whitton during the application and acceptance process and believe the outstanding work we are doing in the City of Glen Cove provides a strong foundation for my upcoming meetings and dialogues."
Deputy Chief Ortiz has served the Glen Cove, New York, community for the past 19 years beginning as a patrol officer and rising through the ranks to Deputy Chief. Currently, he oversees multiple aspects of police department operations including grant procurement, patrol operations, investigations, professional standards, training, data analysis and policy. Chris earned a bachelor's degree in Criminology (John Jay College), a master's degree in Criminal Justice Administration (Long Island University) and a Doctorate in Criminal Justice Policy Analysis from the City University of New York Graduate Center/John Jay College of Criminal Justice. Chris has served as a research investigator on several NIJ projects and has published numerous scholarly articles on police practices. He has also served as a subject matter expert and provided technical assistance to several police agencies on a variety of policing subjects. Deputy Chief Ortiz is a graduate of the FBI National Academy and PERF's Senior Management Institute in Policing.