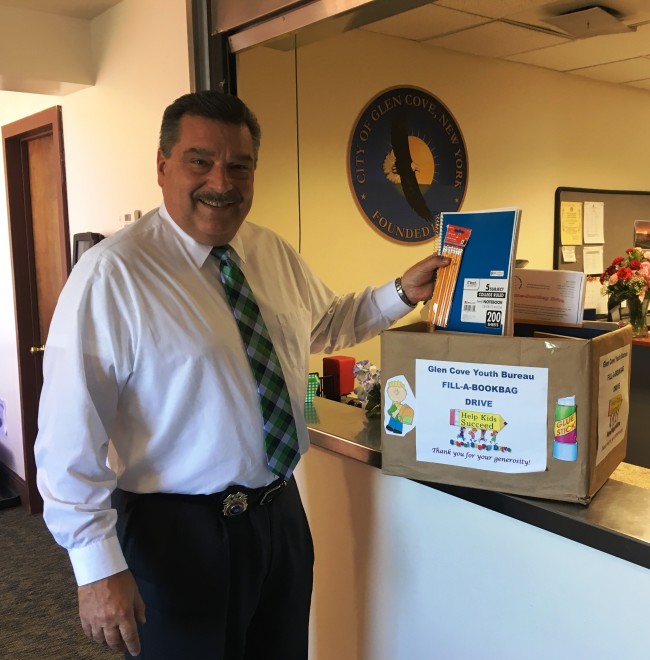 Glen Cove, NY, July 19, 2018 … The Glen Cove Youth Bureau has once again began collecting school supplies and monetary donations to provide hundreds of eligible students, grades K-12, with a book bag filled with school essentials. Among the items that are being collected include, binders, crayons, school bags, pens, pencils, notebooks, hand sanitizer, tissues and other items that are on Glen Cove School District's supplies list. "This program it to make life a little bit easier for Glen Cove families," said Youth Bureau Executive Director Spiro Tsirkas. "Our goal is to collect contributions to fill backpacks for 300 students in need."
Collection boxes are made available at the Glen Cove Youth Bureau, City Hall, Glen Cove Hospital, Library and Rising Tide Natural Market. Liz Weiss, Marketing Director for Rising Tide Natural Market, said that they will donate over $300 to the Youth Bureau's Fill-a-Book Bag drive as part of their Charity of the Month for August. "The Glen Cove Youth Bureau has coordinated some terrific programs for the city's children," said Weiss. "This is yet another meaningful program and we are happy to donate to this cause."
Parents with students who may be in need of supplies are asked to contact the Youth Bureau for a request form. Each resident must be registered in a Glen Cove Public School. Request forms must be submitted by Monday, August 27 in order for students to participate in this program.
For monetary donations, checks may be made payable to the Friends of the Youth Board c/o the Glen Cove Youth Bureau, 128B Glen Street, Glen cove, NY 11542.
###
Photo: Glen Cove Mayor Tim Tenke makes a donation to the Glen Cove Youth Bureau's Annual Fill-a-Book Bag drive.