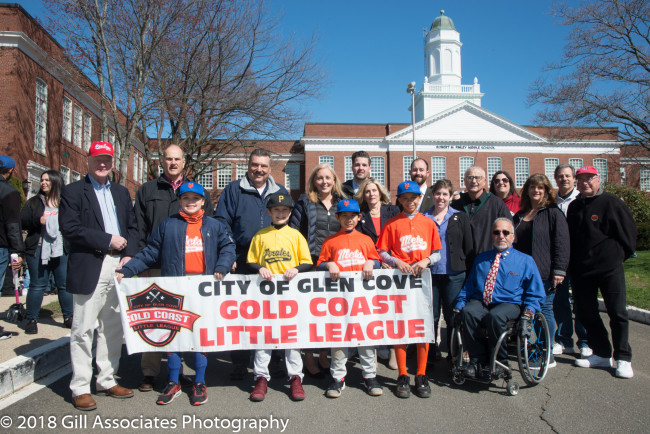 January 2, 2019, Glen Cove, NY … Gold Coast Little League is a baseball and softball program for boys and girls in Glen Cove and surrounding communities who are currently in pre-kindergarten through Grade 9. Operating under the direction of the City of Glen Cove Parks & Recreation Department, Gold Coast Little League is scheduled to kick off their 2019 season with a parade and Opening Day Ceremony on Saturday, April 13th (weather permitting). All players in competitive leagues are guaranteed a 12-game season plus playoffs, with games to be played at John Maccarone Memorial (City) Stadium in Glen Cove. Based on enrollment, some inter-league games may be played on neighboring community fields.
The leagues' 2019 registration dates are scheduled on Saturday, January 12, 19 and 26th from 10:00 a.m. to 12 noon in the main chambers at Glen Cove City Hall, 9 Glen Street, Glen Cove. "The mission of our league is to provide a wholesome, healthy activity for children using the ball field as a classroom to instill discipline, teamwork, sportsmanship and fair play," said Darcy Belyea, Director of Glen Cove Parks & Recreation.
Gold Coast Little League's registration fee includes uniform (shirt, hat, pants and socks) and team a photo for each player. Glen Cove residency is not required to participate and parents are encouraged to bring their child/children to registration to allow for correct uniform sizing. Birth certificates are required at registration for first-time registrants. The League welcomes parents and adult volunteers and interested parties can inquire at registration about volunteering their time.
For further information, please call Glen Cove Parks & Recreation at 516-676-3766 during business hours (9:00 a.m. to 5:00 p.m. Monday through Friday) or visit goldcoastlittleleague.com. Age and league classifications and birth years are noted below.
Photo: Gold Coast Little League players join Mayor Tenke, Glen Cove City Council members, Glen Cove Parks & Recreation Director Darcy Belyea and local officials participate in the 2018 Opening Day Parade to kick off the city's baseball and softball season.  Photo by Tony Gallego of Gill Associates Photography
Division
Player'sBirth Year
Player'sGrade
Division Format
Cost
Instructional – Boys & GirlsClinic format with eventual modified game play
2013
Kindergarten
TeeballNon-competitive
$70
Girls Minor League Softball
2012-2011
1st & 2nd
Coach Pitching
$100
Boys Minor League Baseball
2012-2011
1st & 2nd
Coach Pitching
$100
Girls Major League Softball
2010-2009
3rd & 4th
Pitching
$125
Boys Major League Baseball
2010-2009
3rd & 4th
Pitching
$125
Girls Intermediate Softball
2008-2007
5th & 6th
Pitching
$125
Boys Intermediate Baseball
2008-2007
5th & 6th
Pitching
$125
Girls Senior Softball
2006-2005-2004
7th, 8th & 9th
Pitching
$140
Boys Senior Baseball
2006-2005-2004
7th, 8th & 9th
Pitching
$140
Boys & Girls Pre-School Instructional Teeball Program
Clinic format only
Born between 12/1/13 & 11/30/14
Pre-Kindergarten
TeeballNon-competitive
$45