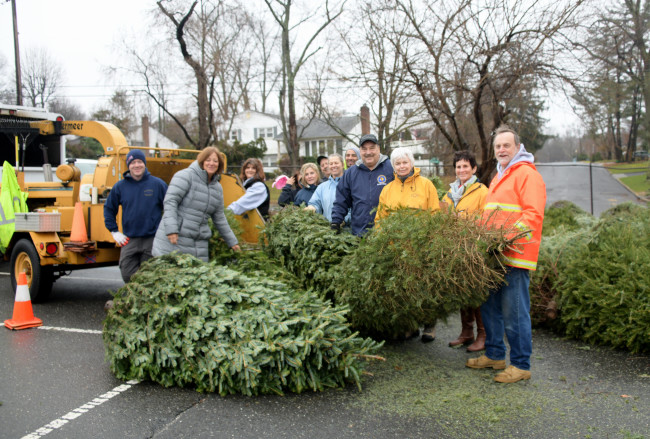 January 8, 2019, Glen Cove, New York … The heavy rain did not dampen the post-holiday spirits for this year's Chip-A-Tree event as the Glen Cove Beautification Commission members and residents braved the cold and wet weather to recycle their Christmas trees. "Our Beautification Commission collected over 100 trees this year and they were mulched on-site by Old Country Tree Service," said Glen Cove Mayor Tim Tenke. "Despite the grim weather, an impressive stream of trees were brought to Morgan Memorial Park and our volunteers were very pleased with our community's participation."
Darcy Belyea, Glen Cove Parks & Recreation Director, said the mulch will be used in the city's Adopt-A-Spot gardens as well as in parks, the golf course and at other city facilities. "I am extremely grateful to have an active Beautification Commission and for the outstanding support of our members and the Duffy family – Tom, Tom Jr. and Peter – from Old County Tree Service for their service each year," said Ms. Belyea.
For Glen Cove residents who were unable to participate in the Chip-A-Tree event, the Glen Cove Department of Sanitation will pick up trees that are left curbside during their Wednesday yard waste pick up days.
Photo caption: Glen Cove Mayor Tim Tenke, Parks & Recreation Director Darcy Belyea and Glen Cove Councilwoman Pamela Panzenbeck, who is the liaison to the Beautification Commission, joined The Glen Cove Beautification Commission at the Annual Chip-A-Tree event.
Photo credit: Tab Hauser